a beautiful history
The Göta Canal has a long and exciting history
The Göta Canal was one of the largest civil engineering projects ever undertaken in Sweden. The canal stretches from Sjötorp on Lake Vänern to Mem on the east coast. It has a length of 190 kilometres and a total of 58 locks. Of this distance, 87 kilometres were dug by hand.
It's a unique canal with a beautiful history. Come and experience it yourself!
You may also read more in our Historical magazine.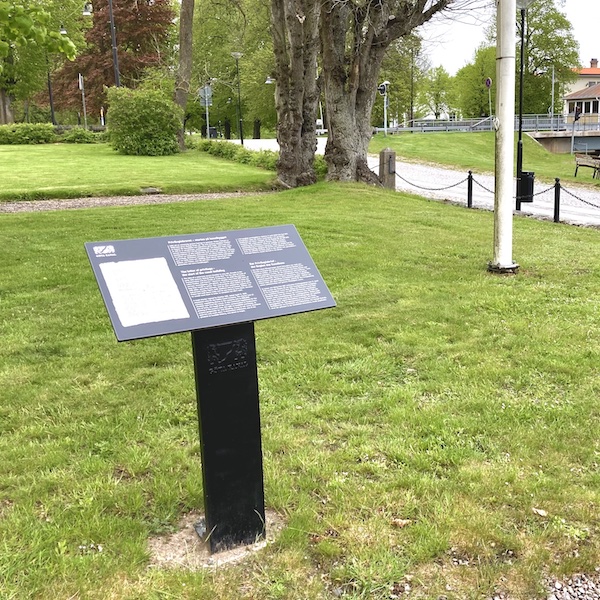 Find our story
We have placed close to 100 signs along the canal where we talk about interesting people, events and places. Keep an eye out for them when you're walking, cycling or boating! They are all black with white text so you can easily see that it is the story they are about.
Kanalbygget
Från en storslagen idé och 300 år av planer, till Årtusendets svenska byggnadsverk.
Männen bakom projektet
 Det var ett stort antal människor som deltog i kanalbygget, och bidrog till att visionen blev verklighet.
Några av männen utmärkte sig särskilt och har fått sina namn inristade i historien. Här presenterar vi dem närmare. 
Visit our museums & exhibitions
Along the Göta canal there are several exhibitions that tell about different parts of its exciting history.
Feel free to visit them if you are interested in learning more!
Livet längs kanalen
Själva kanalbygget var magnifikt och tog 20 år att genomföra.
Men det finns minst lika mycket historia att berätta om det som hände sedan,
om livet längs kanalen och alla de som levt och verkat här. 
Besök de historiska platserna
Hela Göta kanal är som en enda lång historieberättelse. Det finns dock några platser som varit extra viktiga genom historien.
Här har vi valt ett par av dem att berätta lite mer om.
Vill ge dig ut på en roadtrip genom historiens vingslag, har vi satt ihop ett förlag här.
Vill du lära dig ännu mer?
För dig som vill veta ännu mer om Göta kanals historia, finns ett flertal böcker att förkovra sig i.
Och vill du verkligen djupdyka i historien rekommenderar vi ett besök på Landsarkivet i Vadstena, 
där hela Göta kanal-arkivet på över 200 hyllmeter förvaras.