Cycling holiday along Sweden's most beautiful car-free road
One of the easiest ways to enjoy canal life is to follow the boats and cycle along the old towpath. This flat, and car-free, part of the cycle route is particularly suitable for those who want to cycle with children and family. Regardless of whether you bring your own bicycles, rent a bicycle from one of our bicycle rental companies or book a bicycle package where everything is included, you are equally welcome to Göta kanal!
Rent a bike - or bring your own
If you don't want to bring your own bike with you, you can easily book a rental bike at one of our bike rental companies. They can be found in several different places along the canal so that it should be easy for you to plan your cycling holiday based on the place you want to visit. If you want to stay longer than the day, there are a variety of cycling packages that include accommodation, food and in some cases even a boat trip on the canal.
Have a fika or watch boats
As you roll along the towpaths, you pass attractions as well as cozy cafes and eateries. We recommend that you also take the opportunity to observe the lockage of boats, pet the canal sheep and treat yourself to a picnic on the canal bank while the boats slowly pass by.
The full trail map                       Sections & distances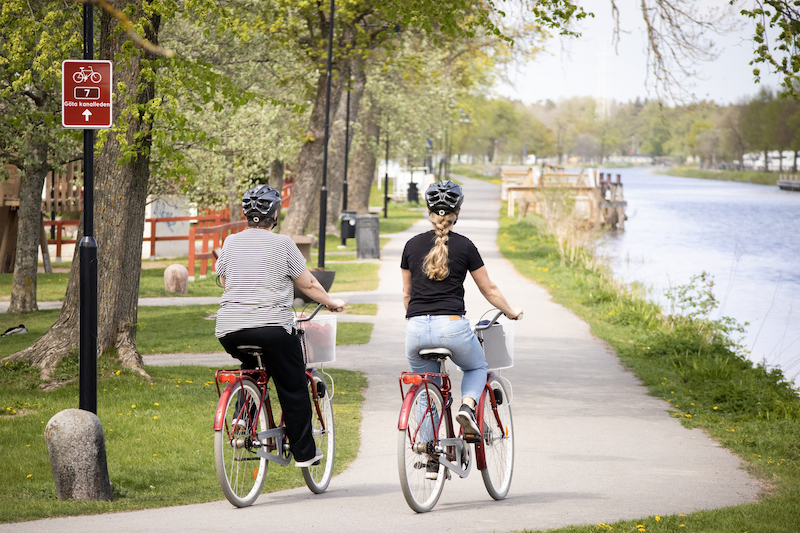 The Göta Canal trail
The cycle path along the Göta Canal, the Göta Canal trail, is excellent as one of Sweden's national cycle routes. This means that it maintains high quality and traffic safety, and that it has a wide range of experiences and services along the route. For you to easily find your way, it is signposted with red and white signs from both sides all the way between Mem and Sjötorp.
In total, the Göta Canal trail is 220 km, and divided into 7 stages, of which 87 km is car-free towpath. You can therefore easily choose to cycle a shorter cycling trip or take a longer cycling holiday.
Rent a bike! 
To facilitate your cycling holiday along the Göta canal, there are a number of bicycle rental companies that offer both adult and children's bicycles. You avoid the work of lugging bicycles on the car, bus or train, and can easily pick up a freshly serviced bicycle with accessories such as a child's saddle and helmet if you wish. At several of the rental companies, you can also pick up and leave the bikes at different locations. Can it get any better?
Cycle transport across lakes
In two places, the Göta Canal trail crosses the lakes Vättern and Asplången, instead of going around them. There you may bring your bike on bicycle boats to get cross. To be sure of getting a seat, we recommend that you book your ticket in advance and you can do so easily online. It is also possible to book bicycle transport across Lake Roxen for those who do not want to cycle around the lake between Berg and Norsholm.
If you also want to try riding a passenger boat, it's fine to bring the bike on board on several of the day trips on the canal. We'd say that cycling one way and then taking one of the passenger boats back is a near-perfect setup for your cycling holiday. You can find and book tickets for the day trips here.
Enklaste sättet att besöka Göta kanal
Boka ett av höstens cykelpaket
Hösten är en behaglig tid att besöka Göta kanal, framför allt om man vill vandra eller cykla. När lugnet lägger sig och träden börjar skifta i rött, är det riktigt avkopplande att rulla fram i sakta mak längs dragvägarna.
Kombinera det med ett bra boende och god mat, så har ni en riktigt bra start på hösten. 
The easiest way to a nice holiday
Book a cycling package!
Along the Göta Canal there are a variety of packages that include accommodation, food and in some cases even a boat trip on the canal. Choose whether you want to cycle for 2 or 5 days, and whether you would like simple or higher standard accommodation. 
Annika Myhre, resfredag.se
On a roll with the family
They had actually intended to wait until the children got older – but the longing to cycle along Göta Canal got too strong. Their solution was to take a shorter trip.
Film: Familjen Ribers cykelsemester
Cykelsemester med familj och barn
De flacka dragvägarna längs Göta kanal gör att cykelleden lämpar sig extra bra för familjer med barn som gillar att cykla. Flera av etapperna är dessutom helt bilfria! 
Förutom själva cyklingen finns massor av äventyr att upptäcka. Bo i en svamp och lek i barnens minikanal i Norrkvarn, eller prova att tälja barkbåtar i Hajstorp. Utmana familjen på minigolf i Berg, klappa kanalfåren utanför Borensberg eller åk med på en dagstur med M/S Kung Sverker från Motala. Dessutom är det näst intill obligatoriskt att äta glass och våfflor i stora lass när man är på familjesemester längs Göta kanal. 
Familjen Ribers valde att ta med hela storfamiljen på en cykeltur längs Göta kanal när de hade en 60-åring att fira. 
Nedan kan du se en kort film deras upplevelse här. 
Everything you need for the trip
Plan your cycling holiday
Bicycles public transport
If you wish to go by public transport back to the starting point instead of cycling, it is usually possible, but there are certain limits to bringing bicycles on buses and trains. Contact SJ , Västtrafik or Östgötatrafiken for current information.